October 8: Titus 2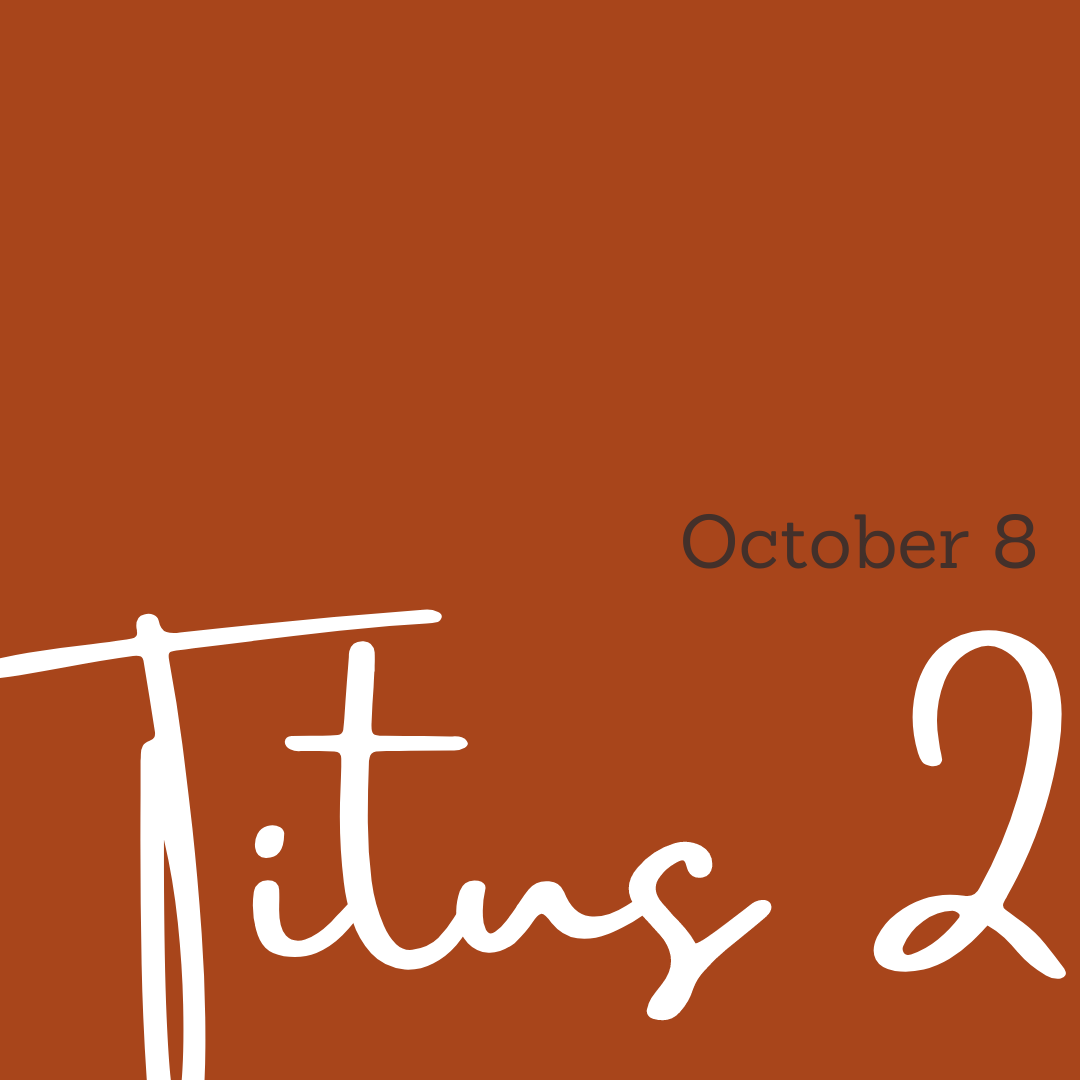 Character Consistent with Godliness
2 Your duty is to teach them to embrace a lifestyle that is consistent with sound doctrine. 2 Lead the male elders[a]into disciplined lives full of dignity and self-control. Urge them to have a solid faith, generous love, and patient endurance.
3 Likewise with the female elders,[b] lead them into lives free from gossip and drunkenness and to be teachers of beautiful things.[c] 4 This will enable them to teach the younger women[d] to love their husbands, to love their children, 5 and to be self-controlled and pure, taking care of their household and being devoted to[e] their husbands. By doing these things the word of God will not be discredited.
6 Likewise, guide the younger men into living disciplined lives for Christ.
Be an Example
7 Above all, set yourself apart as a model of a life nobly lived. With dignity, demonstrate integrity in all that you teach.[f] 8 Bring a clear, wholesome message[g] that cannot be condemned, and then your critics will be embarrassed, with nothing bad to say about us.[h]
9 Servants[i] are to be supportive of[j] their masters and do what is pleasing in every way. They are not to be argumentative 10 nor steal[k] but prove themselves to be completely loyal and trustworthy. By doing this they will advertise[l] through all that they do the beautiful teachings of God our Savior.
God's Grace, Our Motivation
11 God's marvelous grace[m] has manifested in person, bringing salvation for everyone.[n] 12 This same grace teaches us how to live each day as we turn our backs on ungodliness and indulgent lifestyles,[o] and it equips us to live self-controlled, upright, godly lives in this present age.[p] 13 For we continue to look forward to the joyful fulfillment of our hope in the dawning splendor[q] of the glory of our great God and Savior, Jesus, the Anointed One.[r] 14 He sacrificed himself for us that he might purchase our freedom from every lawless deed and to purify for himself a people who are his very own,[s]passionate to do what is beautiful in his eyes.
15 So preach these truths and exhort others to follow them. Be willing to expose sin in order to bring correction with full authority,[t] without being intimidated[u] by anyone.